It's quite difficult to maintain a blog, especially when you don't have a really clear subject or goal. I'm no motherhood blogger, nor am I a food or lifestyle blogger. You'd think that would make it easy: no real theme, just write whatever you feel like writing about. Sounds easy enough, I know. But in reality it's really friggin' hard! Yes, I can write about anything, but 1 single post can turn a new reader away, just like that. They would read something they didn't like en not bother to look any further. They just might miss something they wóuld like to read!
With that in mind, I've decided to add a few new categories of blog subjects. Not just for readers, but also to help myself come up with more things to write about. So, here I am, presenting to you the first new category on my blog: From my Kitchen.
We have a tiny kitchen with a workspace of no more than 3m2 and that's including the kitchen sink and stove. But nonetheless, it works and we manage to create some yummy meals in there. B especially, loves to cook. Me, I don't enjoy 'the usual, daily cooking', but when it comes to trying out new recipes and stuff, that's when my heart starts beating a bit harder. I love to scope Pinterest and collect recipes and inspiration to try out at home. At least once a week I try to make something different. That could mean a whole new recipe, or a variation on something I know well. Although the variation is usually done on risotto because that's just sooo delicious and easy to experiment with! And then there are a few meals I've learned from mom, B or on my own which I enjoy making. With this new category, I want to invite you into my kitchen and get to know some of my favourite dishes.
Let me begin by apologising beforehand for the lack of foodblog-worthy pictures. I only just came up with this idea, so while making this dish (and another I'll be posting in a few days), I didn't take any pictures. All I have is the final result, which I did try to arrange a bit bloggy, but took with my iPhone. If any of you have quick tips and tricks to improve my iPhone food pictures, please share them in the comments section below! I really don't want to spend half of dinnertime on taking pictures while my food gets cold, haha!
The first dish I'd like to present is my homemade quiche. Now, as a quiche, like risotto, is super easy to experiment with, I do have to tell you that my quiches almost never end up the same. There's always something different, depending on what I have in the fridge. Could be the kind of cheese I use, or perhaps a vegetable I have lying around which for some reason seems to combine well with the rest. The version I give you today, is the one I baked last Tuesday, where I added a bunch of fresh spinach after not having bought enough leek to fill 'em up…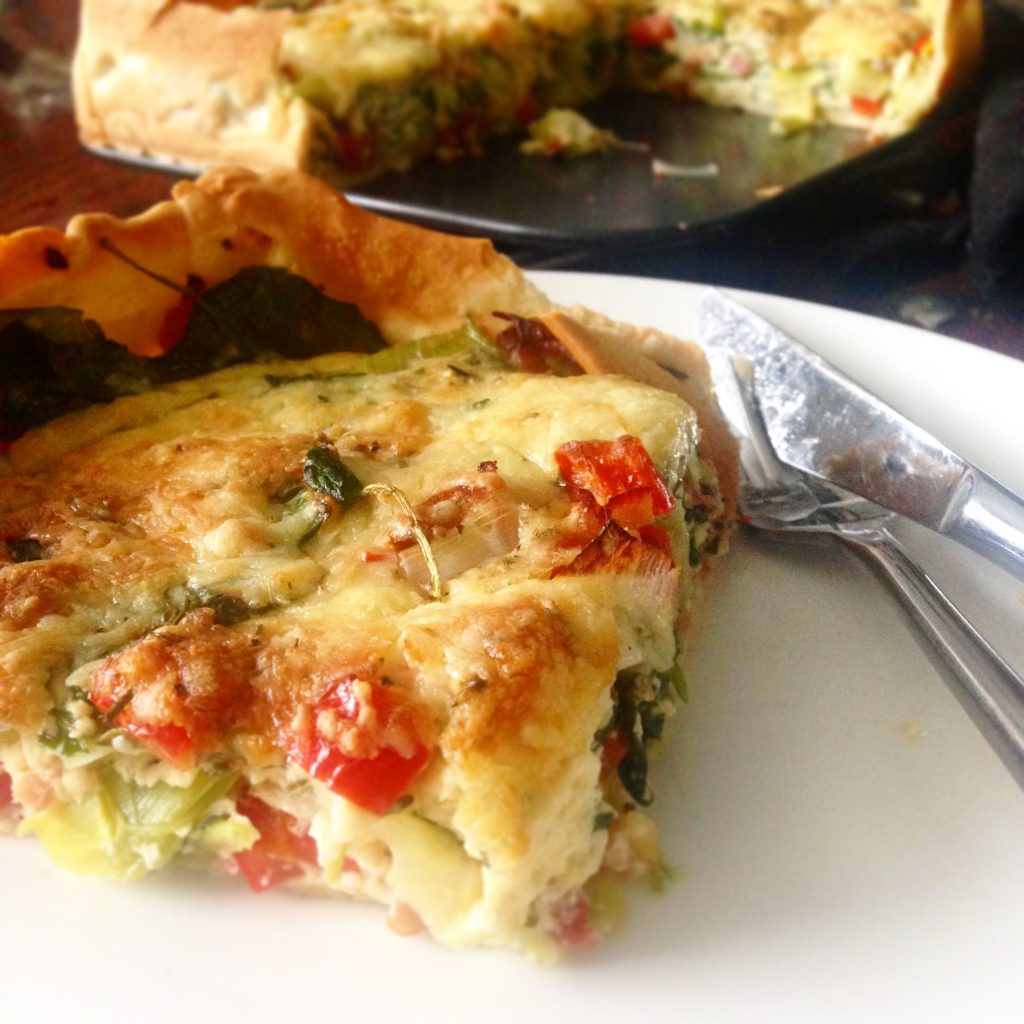 Tuesday's Hearty Dinner Quiche
Cooking time: About 45 minutes incl. preparations
Ingredients
Note: I tend to not measure anything off really. I'm no chef, I just wing it.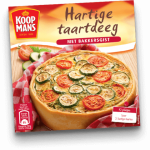 1 leek
1 red bell pepper
A bunch of spinach
A pack of bacon strips
A bag of shredded cheese (whichever you like)
3-4 eggs
200ml crème fraîche
5 sheets of pastry dough (I always use Koopmans Hartige Taartdeeg)
Oregano
Thyme
Rosemary
Salt
Pepper
Instructions
Line a springform with the dough and preheat the oven to 180-200°C.
Cut up the leek into about half an inch sized slices and steam till tender.
Bake the bacon strips in a clean frying pan (no oil!) till just before they actually get hard and cripsy. I prefer to keep them a bit chewy. Take them out of the pan to leak out any excess grease.
Slice and dice the bell pepper and bake them a bit in the pan you just used for the bacon strips (= extra taste and less dishes)
Combine the crème fraîche with the eggs, 2/3 of the cheese and herbs.
Combine and mix all vegetables with the bacon strips and put it in the lined springform.
Pour the crème fraîche mix over the veggies, making sure every little corner get filled.
Spread the remaining cheese over the quiche and pop it on the oven for about 30-45 minutes or until the crust and cheese are a nice golden brown.
Tip: After taking your quiche out of the oven, let it stand for a few minutes so the filling can cool down (because it's going to be HOT!) and firm up a bit (= easier to cut).
Enjoy!