A bonus run?
I should have waited with my weekly recap until this evening, because I went for a bonus run this morning. The sun was shining, I was feeling great, I had slept like a baby and I just couldn't help myself. Clearly I've been bitten by the running-bug!
Two days in a row
Today's frame of mind was 'can I do that again?' and 'can I go even further and reach that 7k mark?' So off I went. My legs were still a bit tired from yesterday, the temperature was higher, the sun was out in full force and there wasn't a cloud in sight. IN fact, I'm writing this at 9.41PM, on the lounge set in our backyard (damn you, non-backlit keyboard!) and I STILL haven't seen a cloud today… I'm sure you can guess how the run went. It was pretty rough! It was one of my slowest runs yet. But… I actually hit 7k and it took me about 48 minutes. I went, I ran, I conquered!
7 km – 48:13 min – 6:53 pace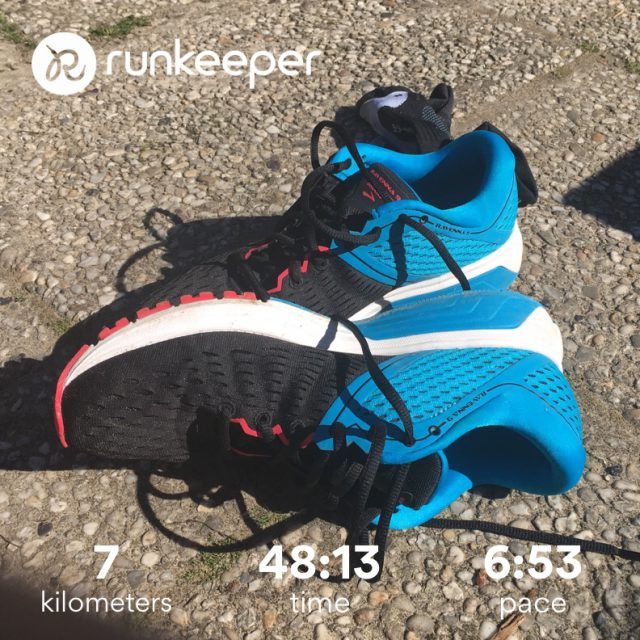 Speeding up
Just this week, I changed my Runkeeper settings from speed to pace. One thing I quickly noticed as I entered the world of running through Instagram and this blog, is that people are keeping their eye more on pace than speed. Turns out I really am slow compared to others. Yes, I know. I shouldn't compare myself, but I can't seem to help myself. Seeing others run and enjoying this amazing sport, it's just so motivating! And I do want to get better and faster.
I'm currently at an average pace of around 6.35 p/km and I really would like to run my 10k in October under an hour. Right now it would take me about 1:05:50 (thank you online pace chart). Clearly, that's not a bad result, especially because I haven't been running this seriously for very long. But I like setting challenging goals for myself 😉 And because of that, I've decided to add interval training into my usual schedule, to mix things up. Hopefully I'll see some real progress in a month or two.
How do you like to challenge yourself to get better/faster/more consistent in your running? Let me know in the comments!
X Mentha