I love how running twice a week has become a must-do in my life. If I miss a run, for whatever reason, I really feel bummed out. With the races coming up I've decided to incorporate some interval training into my week. Read on to find out how that first one went…
Wednesday May 9
I had hoped to wake up early for my run. Having a toddler generally saves me the trouble of setting the alarm. I should have set the alarm…
With temperatures flying high, today being the highest before dropping fast on Thursday, running at 9am really wasn't much fun.
Feeling hot hot hot
The first 3.5km went alright, even running in the full sun for a bit. But suddenly my legs just gave out. Whether it was the heat, the fact I had forgotten to bring something to drink or maybe the 25k bike ride I did yesterday with the little one, I don't know. But I do know that in a matter of seconds my legs turned to jelly.
After a 4 minute walk I picked up my pace and continued to run. Didn't get very far though, the blazing sun got to me.
Coming back to the bridge over the highway, I had a choice to make. Take the long, winding slope or climb the stairs on the other side. I took the stairs and even kinda sorta ran up them. But after that I had barely any energy left. Walked some more and managed to run the final 5 minutes home.
Enter my favorite running quote:
Even a bad run is better than no run
My run was crappy, but I was out there, running, walking and even climbing stairs. So all in all I really didn't do as bad as I think.
6.6 km – 47:50 min – 7:15 pace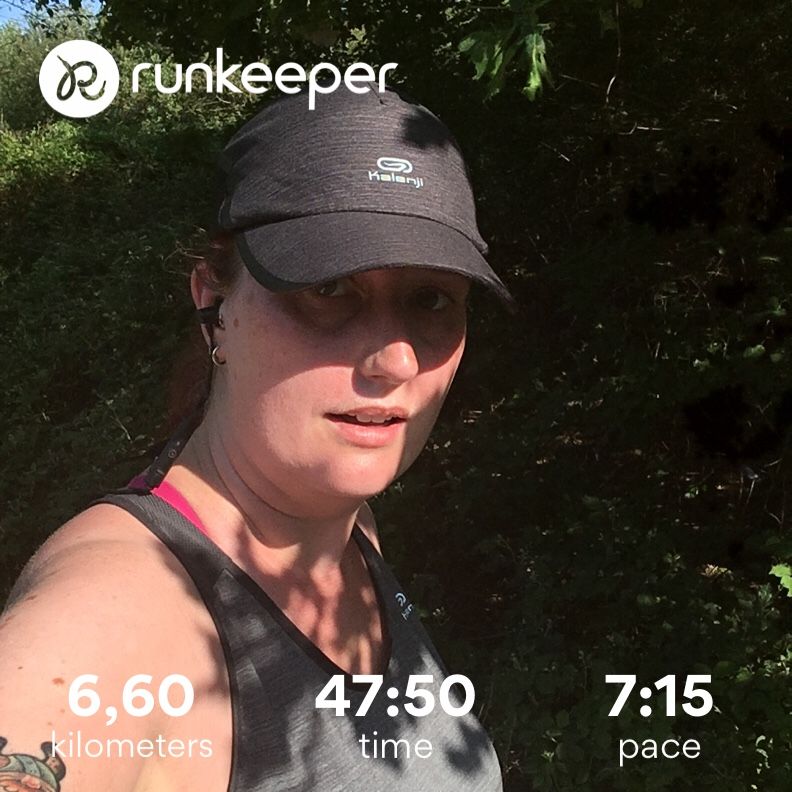 Saturday May 12
The day of my first interval training. I was really looking forward to it and very curious to see what my fast and slow paces would turn out to be. The interval workout I entered into Runkeeper was the following:
1km steady
400m fast
200m slow
400m fast
200m slow
400m fast
200m slow
1km steady
OK, so the 400m was actually 0.25 mile and the 200m were in fact 0.25km. Thank you Runkeeper, for only being able to add 0.25, 0.5, 0.75 or whole miles/kilometers…
I went running in the early evening this time, due to my freshly washed gear not being dry in the morning, haha! The run itself went pretty well actually. Just as I expected, the 400m fast intervals were tough and I have to admit it didn't feel like I kept the same higher pace during them. I was, however, surprised to notice I did have a bit of extra speed in me. A little over 20 minutes later I was back home, completely shattered, but proud of myself for doing it.
And then I looked at my phone… iPhone + Runkeeper = a regular disaster. The last few runs went without a problem, but this one had a very interesting GPS result. It added about a km to the distance I actually turned out to have run once I fixed the map. Because of that, my averages were also completely off the chart and thus far from trustworthy. So in the end, I had a good interval run, but no idea how I actually did. Better luck next time!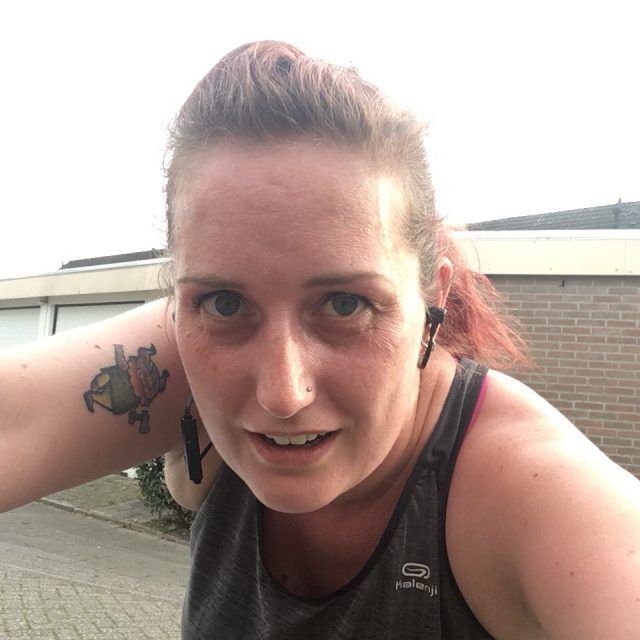 Conclusion
The GPS results of this last run were basically the straw that broke the camels back. I've tried running with my Fitbit Charge 2 before, but that puppy managed to drop the connected GPS on and off as well, ergo: no decent map results. Therefor I've decided to dive into the world of sports watches with GPS. After some initial research I'm currently leaning toward the Garmin Forerunner 235.
This is where you, my readers, come in: I want to know which watch you use and why 🙂 Tell me in the comments!
X Mentha