June 2018. Just days before my 'big' 7.5km run at the Eindhoven Ladies Run. And I had just set a bizarre plan into motion. To run the 2019 Rotterdam Marathon. I had just emailed #LaCoach Laetitia (Ik Begin Vandaag) that I was interested in joining her marathon team and whether or not I qualified.
Hitting the sub-targets
September 2018, San Vigilio, Italy. I just ran my first 10km! Up and down along a mountain, but I did it!
December 2018, Rotterdam. My first 15km run, at the Bruggenloop. Another distance record.
January 2019, Baarn. 18km run with the marathon team. Cold, dry, sunny. One of my best runs ever.
March 2019, Baarn. The big 34km team run. I tapped out halfway. FUCK! What the hell just happened??? Got my revenge the next day by going for a 23km run. Much better!
Marathon Rotterdam weekend
April 6, 2019, Rotterdam station. It's the day before the marathon and I'm already there. Walking through the city, I'm already enjoying the atmosphere. Everything is all about running. Already seeing medals around, the Kids Run.
Headed towards the WTC to pick up my bibs and T-shirt. Made a pit stop at an overcrowded Lush store (really… I need them here in Eindhoven!!!), took a wrong turn, found the WTC and took the metro to my friend and former colleague Anneloes. I'll be having dinner and spending the night there. First night without my little Vik… Weird.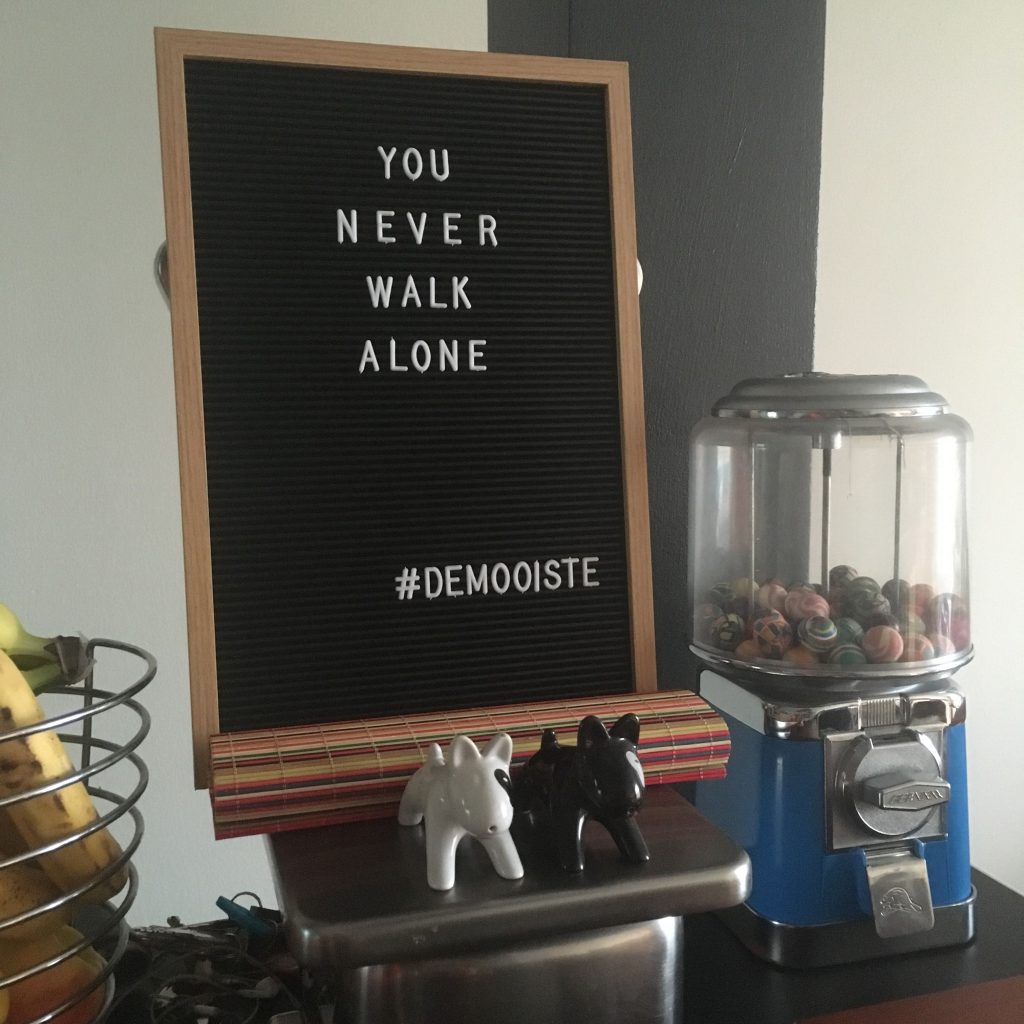 Lovely evening with loads of pasta, laughter and card games. In my sleeping bag on the sofa around 22.00. Checked in at home and went to sleep.
Marathon day
Woke up long before my alarm was set to go off. Put on my gear, slapped on the sunscreen and gathered my stuff together. Had breakfast with Anneloes and headed off to the metro again.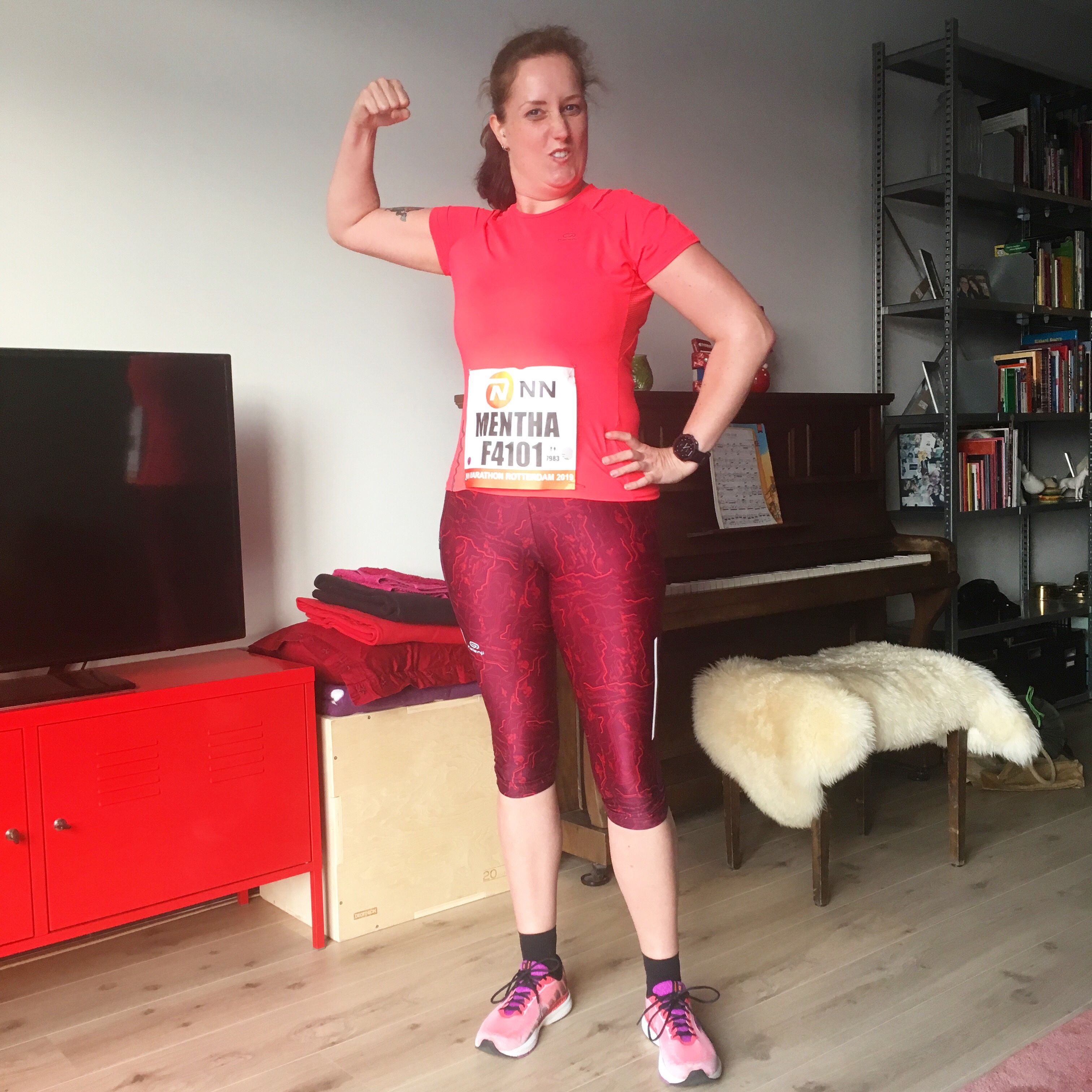 Anneloes was running as well, the duo marathon with one of her colleagues. They'd each be running half of the marathon. Because I had to dump my bag at the site, I left a bit earlier.
Found the baggage area. Waited a long time to check in my bag. Saw the flag we got #LaCoach while waiting, she was gone by the time I was ready.
Headed to the start area. Met up with Malin, Mireille and Dianne. Missed Lee Towers singing You'll Never Walk Alone and suddenly our wave was moving.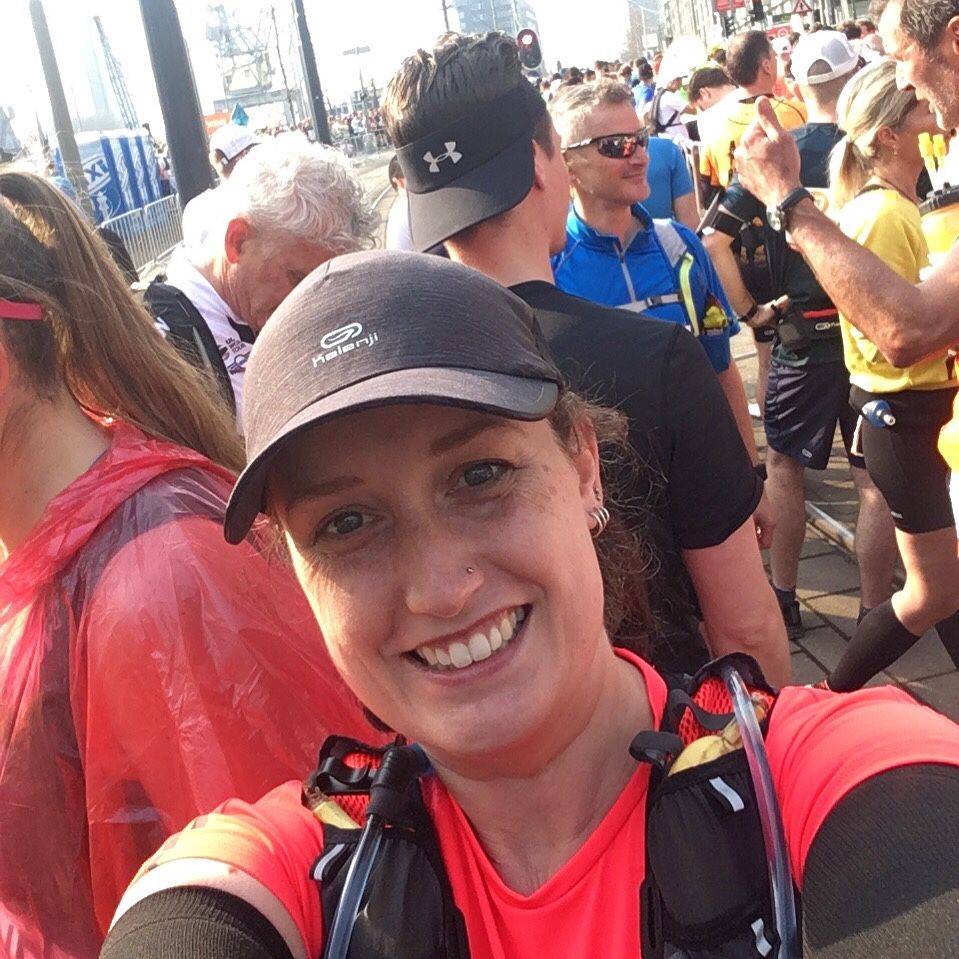 I'm running a marathon!
As we passed the start line, I saw a mass of people, all running up the Erasmus Bridge. What an awesome sight!!!
The first 10km went by ever so smoothly. Saw #LaCoach around 8km, motioned how friggin' got it was and went on. After the first water point things got a bit rough. I really should learn how to drink and run at the same time…
12km. Fuck. This is going to be a rough one. 15km. More swearing, less running. Water. A jelly bar. Pushing on.
10 – 25km
The next 10km were hell. At 21km, halfway, I fell into Anneloes' arms. Her mom and boyfriend were there as well. Quick hugs and on with the show. 'It's so hard, but I won't go home without that medal!'
At 23km I apped the group that my legs were giving up. LaCoach was at 25km and willing to wait for me before moving on to her next stop. More pushing on.
There she was! A quick break. Some pickle juice (ew!) and a paracetamol to take the edge off and on I went. She ran with me until the metro station. 'Keep running. Don't stop!' Waved to her and I was on my own again.
25 – 35km
Keep running. Don't stop.
Damned Erasmus Bridge… Yeah. I walked up. Ran down. A tunnel. Down wasn't hard. Up hurt. Another walk.
The cube houses. 29km. Hey, I'm starting to feel a bit better again.
32km. A selfie with a big smile to the group. 'Just 10km to go!'
35km. Omg! Is that really my best friend Stephanie on that screen cheering me on? Oh! And mom on the next! Tears of joy and love.
35 – 40km
Gotta keep going.
Got out of the forest and back into the city. So many people here! What an awesome atmosphere! I dare not walk any more. They're cheering my name, high fives all along.
A man is stretching his legs. 'Are you okay?' We walked together a bit. His third marathon and the first time he's actually going to finish it. Picked up my pace again, waved a good luck and I went on.
Almost at the finishline
41km. Just passed the cube houses again. Snapped a picture of the 40km sign and Instagrammed it. Almost there!
42km! Just 195m to go, I'm on the Coolsingel. Pushing on. There's the finish! Someone just yelled my name, but I need to focus on the finish line.
Run
Left. Right. Left. Right. Repeat.
The finish. I did it! Walk it off. Where are the medals? Shit, this is a long walk. Medals! Gimme! A bottle of water. Where are Bas and Vik? They're supposed to be here!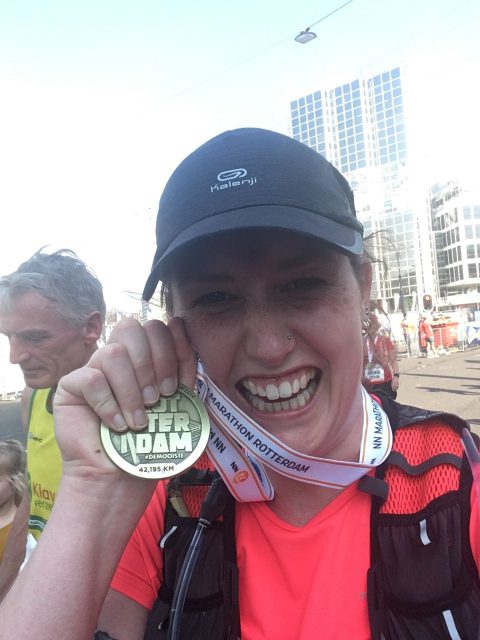 Found the exit and my boys. Apparently it was Bas that I heard yelling my name. My love <3 Saw Malin at the engraving booth.
Stumbled to the bus and then the car. Got home. Crashed on the sofa. Had a beer. And kept my prize medal around my neck all evening until I went to bed.
Couldn't walk for 2 days, but it was so worth it.
I ran a friggin' marathon!!!
Official time: 5:38:36. I had hoped to finish around the 5:15 mark, but with the heat and the (mental) struggles I faced and pulled through, this was an awesome result. Heck. A year ago I had a hard time running 5km straight.
From 5 to 42.195km in under a year. Could never have done it without #LaCoach and the team. So grateful and proud to have been a part of this. And the teams WhatsApp group still lives, as we have all become friends.
Who knows. I might run another marathon one day.
I am a marathoner. Wow.