Last week I ran the 7.5km distance at the Ladies Run Eindhoven. Although I was really looking forward to the run, I was also a bit nervous. My training results have been fluctuating a lot the past few weeks, so I didn't feel fully confident I'd make it. Read on to see how I did.
Before the race
Waking up, I felt pumped and I couldn't wait to jump on my bike to head to the starting point and pick up my race number and t-shirt. ON Thursday I had received an email saying registration would start at 9am. Now, I am the first to admin I'm one to show up early at appointments and events, but I decided to take my time. So I left the house at 9am sharp, haha! My boyfriend and our son would follow me later, planning to arrive just before the race would start.
At the event site
I arrived a little before 9:30 and while I had a vague idea of where exactly I needed to be, the pink banners and balloons couldn't be missed. Neither were the women walking towards then, all dressed in pink. I parked my bike and followed like the nervous pink sheep I was. The tent where I could pick up my bib and t-shirt was easily found and, because it was still fairly early, I didn't have to wait very long. As I unpacked my new t-shirt and laid it out on the grass for an Instagrammable photo, the girl beside me laughed as she was doing the exact same thing. Picture made and posted, I pinned the bib to the t-shirt and changed into it. Oh yeah, I was ready to run! I just had to wait a little over an hour… I spent that hour looking around and enjoying the atmosphere, all the pinkness and the people around me, taking pictures for other people, pinning a bib to a lady's back (her shirt, not her actual back, of course) and standing in line for the limited amount of mobile toilets available (certainly a point for improvement there).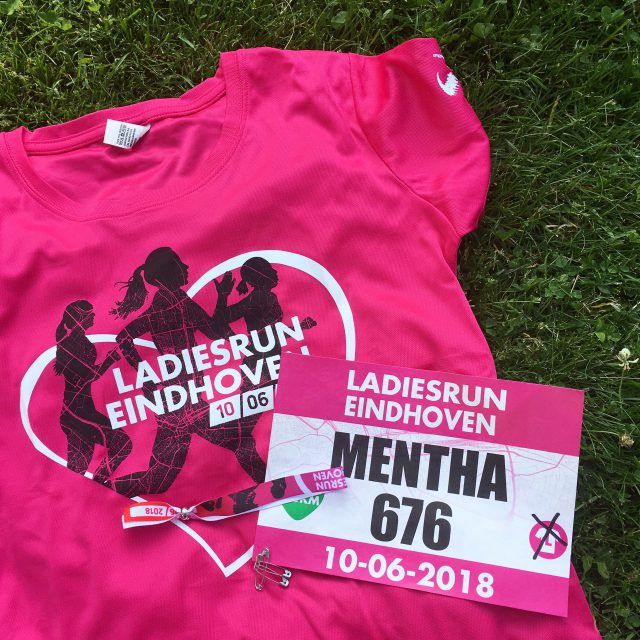 The race begins
Apparently there was a warming up, but I totally missed it as I was already in the starting area. At the Ladies Run in Hilversum in April that's where they did the warming up, so I kind of expected that to happen here as well. Not that it mattered much, because it was already over 20C so I was feeling pretty hot even without the warming up. I was feeling increasingly nervous at that point, but an email from my coach with a few tips had me shift my focus and the nerves when away.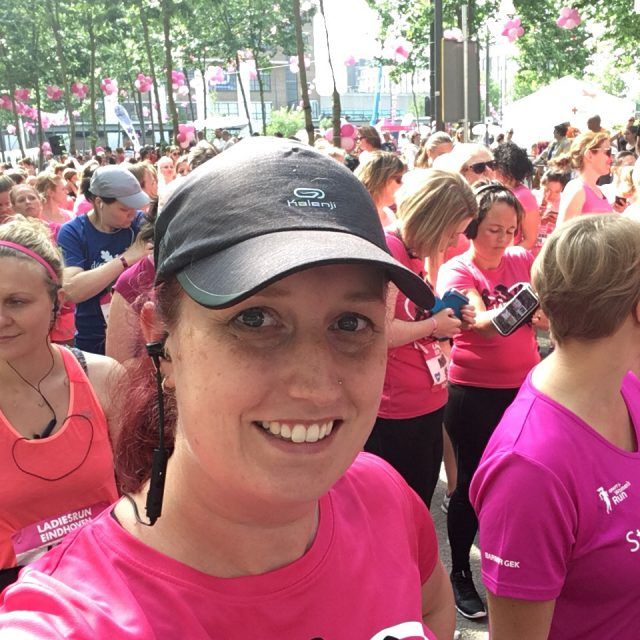 At 10:30 sharp the Ladies Run Eindhoven 2018 started and immediately people were passing me by, but I didn't care. My boys were out there, waiting to cheer me on and I needed to focus on my breathing. Bas didn't see me until I was right in front of him, little Vik missed me completely…
Running 7.5km
The first part of the race was through an industrial part of Eindhoven, continuing into a lovely park. I'd always wanted to run that park, but never got round to it, so it was great to be out there this time. Around the 2.5km mark I noticed a couple of familiar faces along the path, a friend and her little boy cheering us on. Big boost! At the 4km mark, on a stretch of road (bike path) I saw the first 7.5km lady running the other way. Damn that girl was fast, already on her way back to the finish line! I still had 3.5 friggin' kilometers to go! First water point was at around 5.5km which I felt was pretty late in the game. But it did offer a moment of refreshment and a tiny walk because dringin and running just isn't something I'm very good at. Another water point at 6km which I went through easier, once I remembered the tip of squeezing your cup and creating a smaller sipping area.
The finish in sight
Running a straight line to the finish sucks. Especially when it's over 500m long and there's nothing blocking your view of the finish line. A tiny walk to gather my final strength and then running on willpower. I need to finish this running… Oh hey, there's my friend and her son again and she's taking a picture or a video or whatever. Yay! And 50m further I spotted my boyfriend and son and they spotted me. Wheee! I'm almost there! Look, loads of pink balloons and a banner over my head with the word FINISH on it. OMG I did it, I finished the Ladies Run Eindhoven! A young girl put a medal over my head, somebody handed me a bottle of sportsdrink and that was it. I had crossed the finish line in under 50 minutes. 49:32 and nr. 140 out of 241 runners as I found out later that evening when the results were in.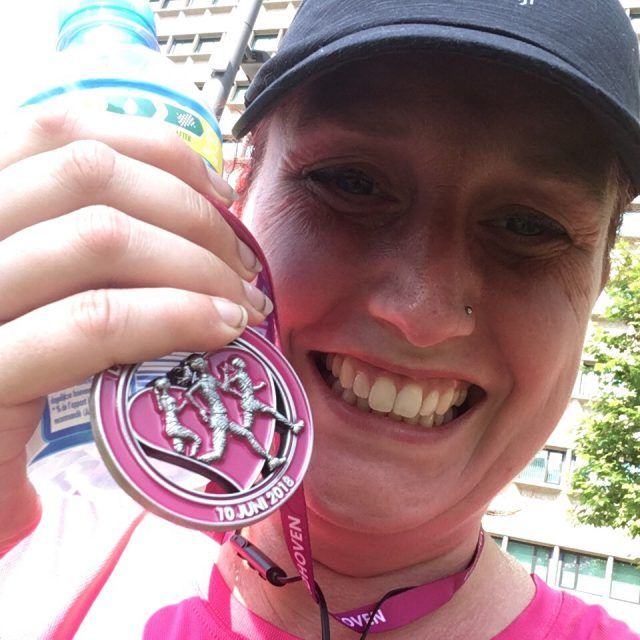 Closing words
What can I say? I'm very proud of myself for doing this and I had so much fun! I'm already considering running the 10km next year. Oh and one of my Instagram posts actually got added to the online event magazine, so check that out on
http://magazine.like2run.nl/ladiesruneindhoven
!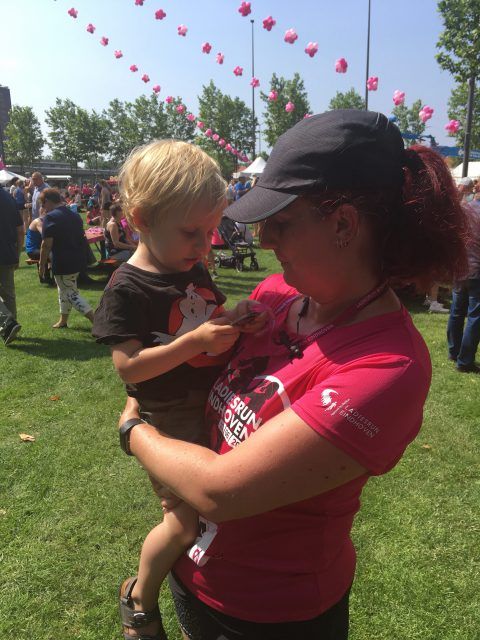 X Mentha